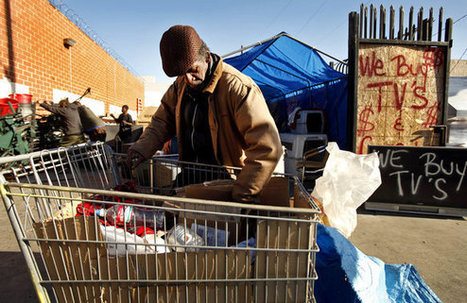 Francisco Morataya drives a vanload of empty bottles and cans to Victar Recycling Center in Echo Park every week or so to supplement his wages as an office janitor.
Certain containers previously accepted at a higher redemption value are no longer eligible, hurting people who rely on recycling for income.
Since 1987, California has charged a nickel or dime deposit on beer and soda cans and other containers that can be redeemed at any of the state's 2,200 recycling centers. Customers were not charged deposits for wine and liquor bottles, some milk and juice jugs and other vessels, although recyclers could mix them in with redeemable containers and receive some payment.
During the recession, the state's recycling rates shot up from 65% to 80% or more. That was good for the environment but threatened the solvency of California's $1.1-billion beverage container recycling fund, said CalRecycle spokesman Mark Oldfield.
Under the new law, recycling centers starting Nov. 1 stopped taking wine, liquor, milk and other containers, except for scrap value, which is negligible.