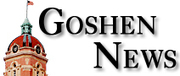 Recycling can create jobs
Goshen News
As our leaders scour the state looking for job opportunities for Hoosiers, they're neglecting one potential job source they see every day … one that could bring thousands of jobs to Indiana: the trash can.
It's true. While Indiana wrestles with a 7.5 percent seasonally adjusted unemployment rate and our leaders chase any and all reasonable ideas for job creation, we're virtually burying jobs in landfills by disposing of materials that could be recycled and used in consumer goods.
And we're not talking about a few jobs; we're talking about thousands of jobs. A new study by the Bowen Center for Public Affairs at Ball State University confirmed that, if Indiana's antiquated policies are updated to encourage more recycling, we could realistically create at least 10,000 new jobs in Indiana.
It's time for our leaders to put an end to our job-disposal habits and promote the policies necessary to create jobs that not only will put more Hoosiers to work but also reduce our negative impact on the state's environment.
The potential is considerable. Today, 66 percent of what gets thrown away by Hoosiers could be recovered and used as raw material by Indiana manufacturers. Another 17 percent of our waste could be turned into valuable compost.