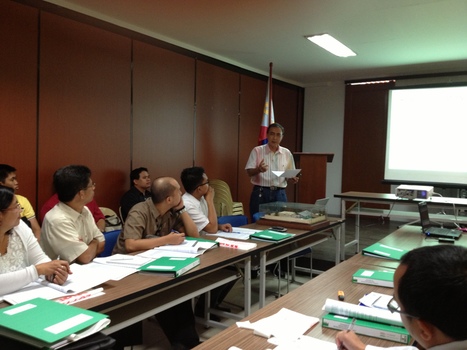 Aug. 5 - Earth Day Philippines President Bert Guevara is shown explaining the program entitled "Full Waste Recovery Program for Metro Manila" to the Technical Working Group of the National Solid Waste Management Commission of the Philippines. The program was jointly conceived by Earth Day Network Philippines, with the business sector represented by the Philippine Chamber of Commerce and Industry and the Philippine Business for the Environment, with the full support of Coca-Cola FEMSA.
The program involved an "incentivized waste collection scheme" that will recover the non-traditional packaging materials, which would otherwise be the cause of Metro Manila's garbage and flooding problems. The incentives will be shouldered by private businesses and managed by Earth Day Philippines, through facilities called "Redemption & Recycling Depots", which will be hosted by Coca-Cola FEMSA. The recovered wastes will then be transferred to recycling, co-processing and biomass facilities to upgrade them into useful by-products.
This approved scheme hopes to be in place by early 2014, in time for the APEC Conference in Manila in 2015.