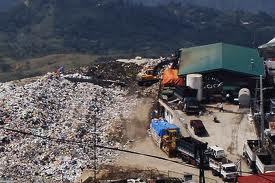 Benguet town complains about Baguio garbage Inquirer.net The city's general services office began transferring its sorting area for garbage to Sitio Lamtang in La Trinidad from its original location in Barangay Irisan here after teachers and...
Baguio garbage collectors sort out up to 120 metric tons of garbage a day in this way station before these are shipped to a commercial landfill in Urdaneta City.
Tabanda said her office was not consulted about the move. She said the city government also failed to secure the building, sanitation and health permits needed to move trash to La Trinidad.
But when asked, Tabanda said her office did not plan to file an environmental complaint.
"We will allow Baguio to explain the nature of its activities [in Lamtang] and conduct consultations," she said. "If [the way station] would have a negative impact on the environment and the nearest La Trinidad community, then it has to stop. If there is no negative impact, then it will get our approval if that's how we can help Baguio City."