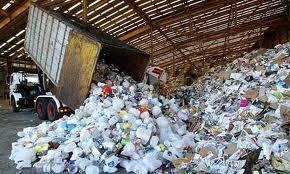 Waste resource recovery: discarding the throw-away mentality
The Burnside News
While this has been the case for many years now, more recently corporations such as Waste Management Corp.
The fact of the matter is that it's all resource. Waste is a human and perhaps economic construct. Some smart municipalities are now using waste resources such as organic material as an input to anaerobic digesters and producing methane that could be burned for heat or as a fuel for electricity generation. The residue then becomes a soil amendment.
So the "waste" now has a double value. This is a different way of thinking about waste. Nova Scotia has gone a long way down this road, but could do more.
The component of the original resource that one manufacturer might not want could become someone else's resource. This way of thinking is known as industrial symbiosis or by-product synergy. The concept is that any manufacturing process generates both product and by-products. The latter could be physical material, but it could also be heat or hot water.
What are some of the benefits of this approach? Here are a few of them:
• changing waste into a revenue stream
• fostering cross-industry communication
• reducing waste disposal costs
• educing waste disposal into landfills
• reducing demand for virgin materials from out of province
• creating new business opportunities
• improving business competitiveness.