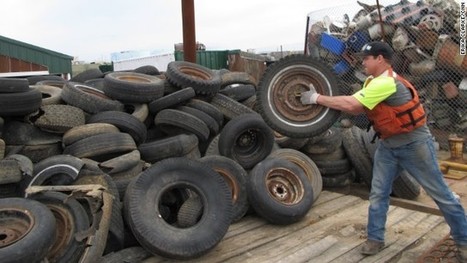 In the past 15 years, Chad Pregracke has helped pull more than 67,000 tires from the Mississippi River and other waterways across the United States.
But that's just scratching the surface.
He's also helped retrieve 218 washing machines, 19 tractors, 12 hot tubs, four pianos and almost 1,000 refrigerators.
"People intentionally dumped (these) in the river and also littered," Pregracke said. "Even 100 miles away, (trash) will find its way into a creek or a storm drain and into, ultimately, the Mississippi River."
For Pregracke, removing this debris has become his life's work. Sometimes called "The Rivers' Garbageman," he lives on a barge about nine months out of the year with members of his 12-person crew. Together, they organize community cleanups along rivers across the country.
It's a dirty job, but Pregracke, 38, took it on because he realized that no one was doing it. It began as a solo effort, and over the years his energy, enthusiasm and dedication have helped it grow. To date, about 70,000 volunteers have joined his crusade, helping him collect more than 7 million pounds of debris through his nonprofit,Living Lands & Waters.