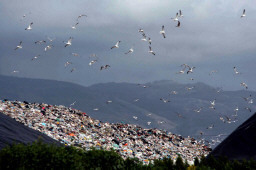 The European Commission is hauling Italy back to court to seek a large fine after the country failed to clear up more than 250 landfills, some of them holding hazardous waste.
Italy has failed to make good on a 2007 European Court of Justice ruling ordering it to clear up hundreds of legal and unregulated waste tips, the Commission said, announcing it would try again and seek a lump-sum fine of 56 million euros ($73 million).
The Commission is also asking the court to level a daily penalty of more than 250,000 euros from the date of the second ruling until the problem is completely cleared up, it said in a statement.
It said there were 255 landfill sites, of which 16 contained hazardous waste, after Italy managed to clear just 31 following the 2007 ruling.