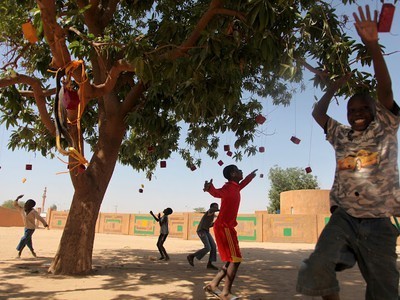 Spanish collective Basurama arrived in Niamey, Niger, to assist locals in the construction of new leisure spaces with local, low cost materials.
Through invitations by other groups or their own initiative, they have built amusement parks with discarded materials in Lima, recycled street carts in Mexico and built bicycles with recovered parts in Madrid, among many others.
Last year, the group arrived in Niamey, capital of Niger, to teach locals how to build playgrounds with local, low cost materials. According to the Basurama blog, 60 volunteers from 12 cultural centers participated in a one week workshop in which they learned to look at materials usually treated as garbage in another light.
To practice, the group transformed a space where waste used to be burnt in a playground made entirely with pallets, tires, garbage bags and plastic drums.
The children and adults' faces using the space show how much the reality of a neighborhood can change with some creativity and little resources.