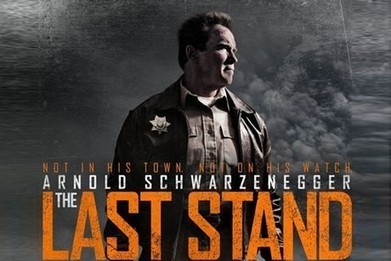 Does life in a quiet town have excitement,action, or adventure? Well the quiet border town of Summerton Junction, Arizona is about to get the most thrilling event it has ever seen. A drug lord is planning an escape from prison that will bring him through Somerton to cross into Mexico.
Summerton is a small town that enjoys its football on Friday nights, enough that the whole town is following its high school team on the road this upcoming weekend. Seems like an easy job for the local Sheriff Ray Owens(Arnold Schwarzenegger – "The Terminator", and "The Expendables 2"), and his team of three deputies. Will they be ready for the upcoming events that might change this small town forever?
While in Las Vegas, the FBI is transferring a prisoner from the court house to the federal prison. All the planned routes and security needed have been set in place and all systems are ready to go. Led by Senior Agent John Bannister (Forest Whitaker – "Phone Booth", and "Platoon"), the team transfers their man by an armored van and a team of street cars to the prison facility.
What they do not know is a fool proof escape is planned and it will bring Gabriel Cortez (Eduardo Noriega – "Blackthorn", and "Transsiberian") and his team through Summerton like a huge freight train. Managed by an elite team of warriors, led by Burrell Thomas (Peter Stormare – "Armageddon", and "Bad Boys II"), they will smash their way into Mexico. They're heading straight into a team of country police that is holding something that might just stop them.
Director Jee-woon Kim brings an action packed film, along with some excellent comedy, that is guaranteed to entertain you. He keeps the action going, while making you laugh along the way. Mike Figuerola (Luis Guzmán – "Journey 2: The Mysterious Island", and "The Taking of Pelham 1 2 3") one of Ray's most experienced Deputy's gets you laughing with his one liner's, while Lewis Dinkum (Johnny Knoxville – "Jackass", and "The Ringer") owner of the local gun museum and wannabe police officer keeps you rolling with his funny antics. I recommend this film to anyone who loves action and adventure, with a little comedy to keep you rolling along with the ride.
Final Grade: I give this a B+ for its fantastic action scenes, spectacular storyline, and its great comedy.
Cast: Arnold Schwarzenegger, Forest Whitaker, Luis Guzmán, Peter Stormare, Eduardo Noriega, and Johnny Knoxville.
Director: Jee-woon Kim
Writer: Andrew Knauer (screenplay and story), Jeffrey Nachmanoff (rewrite), and George Nolfi (writing supervisor).
Runtime: 107 minutes (1 hour and 47 minutes)
MPAA Rating: Rated R for strong bloody violence throughout, and language.
Genre: Action, Crime, and Thriller
Production Company: Lionsgate Entertainment
Release Date: January 18th, 2013