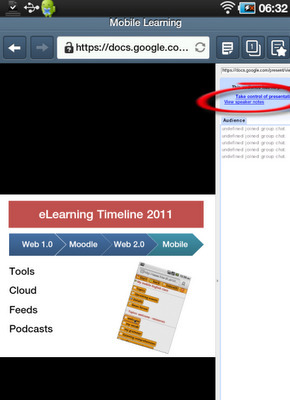 There are a number of apps that allow you to remote control a PowerPoint presentation. That is pretty cool, however there are two snags:
A Wi-Fi connection is required to connect the phone and the presentation computer
A server app needs to be installed on the presentation computer
These two requirements might not always be available, particularly if you are a teacher and you have to move from classroom to classroom.
The simplest way of solving this problem is using google presentations both on your phone and on the presentation computer. Google spreadsheet has a presentation feature which lets you share and remote control presentations ("take control" – see image).
Via
andreas hofer