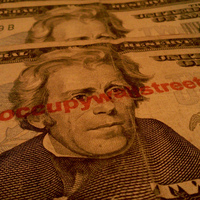 A decentralized, distributed electronic currency designed to address the grievances of the 99% and correct the excesses of the 1%.
My comment:
This is an indiegogo funding drive for the development of Freicoin, which is a version of Bitcoin with demurrage added. Demurrage is a periodic charge on extant coins, advocated by Silvio Gesell, which has the purpose to encourage spending the currency as it loses value over time.
Demurrage is however only one of the concepts Gesell bases his money (called Freigeld) on. Another central concept is that Gesellian Freigeld is quantity-adjusted to meet user base requirements. Bitcoin, and therefore also Freicoin, has no such adjustment mechanism, which means that the value of the currency vs. the things to be bought and sold with its help, is subject to change as the user base (and therefore demand for the currency) grows or shrinks.