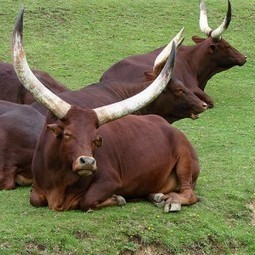 Hornless cattle, described by GLP's Jon Entine here last year, have lumbered onto the GMO scene once more. This time they appear as an example in Antonio Regalado's speculations at Technology Review about the future of GMO regulation, especially animal biotechnology.
Because the cattle are made using gene editing techniques and no genes from other species, the hope by some is that regulators will accept them more readily than they have GM animals produced in other ways. The hornless cattle are the brainchild of molecular geneticist Scott Fahrenkrug, who used to be at the University of Minnesota but left to form his animal GMO startup, Recombinetics. He wants to breed GM pigs as model animals for human disease research as well as cattle without horns.
Hornless cattle are desirable because they are less dangerous to people and to each other. Some breeds are hornless naturally, but dairy cattle breeds usually have horns that are burned or sliced off, a horribly painful process. A Recombinetics investor who took part in dehorning in his youth told Regalado that it was a bloody mess. "You wouldn't want to show that on TV."
Fahrenkrug, whose company is using a gene editing method called TALENs, is not the only scientist hoping that gene editing will pass muster with regulators. A few weeks ago I wrote here at GLP about a gene deletion, using a different gene editing technique called CRISPR, which helps wheat resist powdery mildew. The hope is that because the work did not involve gene transfer it will not arouse opposition.
Via
Dr. Stefan Gruenwald