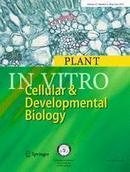 Cassava as the fourth largest source of calories in the world requires that contributions of biotechnology to improving this crop… be periodically reviewed. Plant biotechnology offers a wide range of opportunities that can help cassava become a better crop for a constantly changing world…
We analyze… knowledge to help cassava fight bacterial diseases and look at… resistance to viruses and whiteflies… The review also covers… nutritional improvement and mass production of healthy plants by tissue culture and synthetic seeds. Finally… the challenges associated to climate change for further improving the crop are discussed.
During the last 30 years, great advances have been made in cassava using biotechnology, but they need to scale out of the proof of concept to the fields of cassava growers.
http://dx.doi.org/10.1007/s11627-016-9776-3
Via
Alexander J. Stein