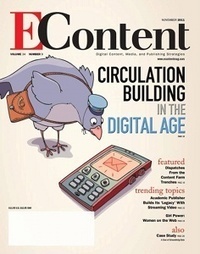 ebrary announced the results of its Download Survey for which it asked more than 1,000 participating librarians about mobile and offline access to ebooks.
"The survey found that librarians know their patrons value the portability of ebooks, which led 92% of respondents to say that providing offline access to ebooks was at least as important as providing online access to them, if not more so.
ebrary also asked librarians about the importance of usability, tethering systems, ebook loan periods, and single-user licenses. The survey results, along with a paper by Allen McKiel, Ph.D., the dean of library services at Western Oregon University, are publicly available online at www.tfaforms.com/222151
Via
Karen du Toit
,
Sophie D.F.