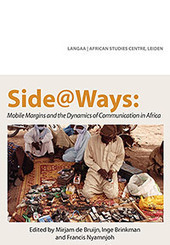 'Side@Ways: Mobile Margins and the Dynamics of Communication in Africa', edited by Mirjam de Bruijn, Francis B. Nyamnjoh and Inge Brinkman (2013).
Marginality does not mean isolation. In Africa where people are permanently on the move in search, inter alia, of a 'better elsewhere', marginality means disconnection to obvious possibilities and the invisibility of the myriad connections that make life possible for the ordinarily sidestepped.
This book is about the workings of networks of the mobile in Africa, a continent usually associated with the 'global shadows' of the world. How do changes in the possibilities for communication, with the recent hype of mobile technology, influence the social and economic dynamics in Africa's mobile margins?