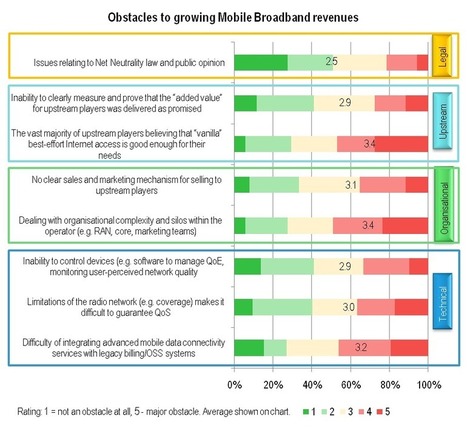 Key Issues:
Putting users in control:
· put users in more control of their mobile broadband service,
· helping them understand what data they have used and give them the option to choose to buy additional data capabilities on-demand when they need and can use it.
New pricing approach:
· based on time, speed, content (mainly PCRF based options)
No single 'Killer' obstacle to growth – but lots of challenges
· Net Neutrality is increasingly seen as a lesser issue in EMEA, certainly than in the US;
· Manageable technical and organisational issues (e.g. integration, organisational complexity) appear a bigger obstacle than unmanageable ones (e.g. inability to control devices),
Managing Costs: Network Sharing, Offloads as important as LTE
· Strategic, long-term solutions including network sharing, LTE and offloading;
· network sharing (collaboration) deals are seen as significantly more effective than network outsourcing deals, and will be exploring this further in future analysis.
· Strategies with a potentially important but more moderate impact including pricing, network outsourcing, and video traffic optimisation
· lower impact initiatives such as refreshing the 3G network.