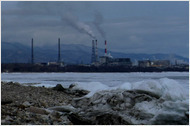 Workers at an ailing paper mill in Siberia are clinging to their jobs in the face of financial pressure and criticism from environmentalists.
The environment, industry and politics play key roles in this story of an old style Soviet mono-town on Lake Baikal. Monotowns had planned economies that revolved around one industry and today many of these are struggling in the post-Soviet era. While the particulars of the political situation are a bit dated, the overall issue is still quite relevant to understanding Russia today.
--We need to consider many things when we see this video. First and foremost, the mill was a main source for labor and economic growth in this small town. Many generations have worked in this location post- Soviet issues. The fact that in those times it was not considered a source of harm for the wildlife and human life that surrounded it, means a great deal. You have to consider that people were focused on production and exporting what they had in order to maintain a stable place in the trade field. People were not focusing on the long term effects but rather being able to provide food and shelter for their families. Many people to this day put their lives at risk working in less than safe locations around the world. We have to see the need for these people to continue putting themselves at risk. Now, enviromentalists are saying that the waste and the pollution associated with the mill is harmful and can cause devastation to the wildlife and lake. Yes, it is true. However, to what extent can they continue to push this mill to close down and to what extent will their conscience give in and realize that by closing this location down they are contributing to the deaths of many because there will be no way for them to earn money and survive. Of course no one wants to destory a beautiful lake or the wildlife in it, but have enviromentalists considered ways of making the mill more enviromental friendly? -- M. Carvajal
Tags: Russia, industry, labor, environment, economic, water, pollution, environment modify, unit 6 industry.
Via
Seth Dixon
,
Elizabeth Allen