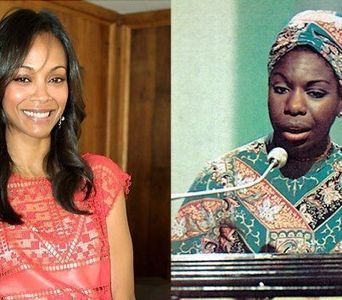 Zoe Saldana is set to play Nina Simone in "Nina", a film about the jazz singer's life. Filming starts in October 2012. Simone was a dark-skinned black woman, Zoe Saldana is a light-skinned Latina who looks nothing like her, but apparently has the star-power to get the film off the ground.
...
Adepero Oduye, who played the lead in "Pariah" (2011), looks way more like Simone and has more acting talent, but has little box-office pull:
The trope here is "But Not Too Black": leading black characters, particularly females, particularly those with a love story, tend to be played by the light-skinned or mixed-race. The thinking is that they appeal more to white audiences – because they are "not too black" – and even to black audiences – because of colourism. You see it more in film and television aimed at whites than at blacks.
Saldana herself is both black and Latina. As far as I know she has never distanced herself from either. She was born in New Jersey to Dominican parents. She is #45 on Maxim's Hot 100 for 2012, the highest ranking black actress.