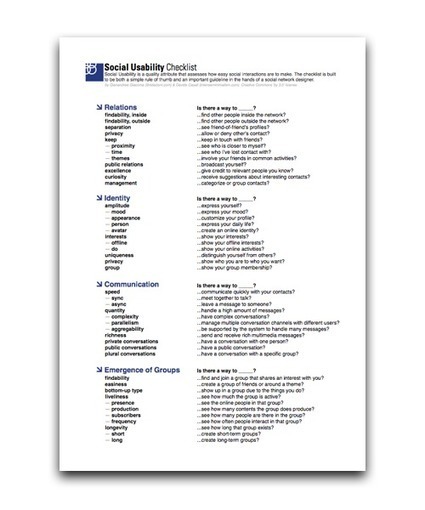 Social Usability, like usability, is a quality attribute that assesses how easy social interactions are to make. The term "social usability" also refers to the methods for improving the ease of human-computer-human interactions during the design process.
Social Usability is defined by four properties (RICE):

-- Relations: How easy is it to find other people and connect to them? How easy is it to keep those connections active? How relevant are those connections?
-- Identity: How rich is one's personal identity expression? How much are interests and passions expressed? How much are personal distinctive traits show? How much is privacy management detailed?
-- Communication: How fast can a message reach the other person? How many messages can one handle efficiently? How easy is it to handle conversations (1-to-1, 1-to-some, 1-to-many)?
-- Emergence of Groups: How easy is it to create groups, aggregate and talk around a common interest? How active are groups once established? How long do they last? How much is important to be part of a group?