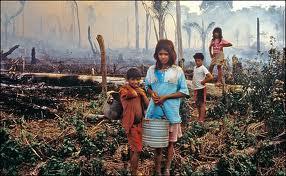 April 18, 2013 Mongabay
UP FOR GRAB: HOW FOREIGN INVESTMENTS ARE REDISTRIBUTING LAND AND WATER ACROSS THE GLOBE
"Land grabbing" involves capital-rich countries investing in land and subsequent agricultural operations in poorer foreign countries. ..
...there are an estimated 62 'grabbed countries' and 41 'grabbers,' with the Middle East, South America, Europe, and Southeast Asia acting as the biggest grabbers. Estimates of the total amount of grabbed land are variable, but it is clear that numbers are steadily on the rise...
Land deals are negotiated in the upper tiers of society and government with little or no input from the communities who are impacted by the sale and conversion of land....http://http://news.mongabay.com/2013/0418-santana-land-grabbing.html
June 22, 2013 Spring Returning
PANAMA: "They lied to us" Pristine #indigenous coastal land in #Panama sold to foreign developers http://www.springreturning.com/indigenous-land-sold-to-developers/
June 26, 2013 Guardian
GUATEMALA: CAMPESINOS FORCED OFF THE LAND TO MAKE WAY FOR SUGAR AND PALM OIL PLANTATIONS http://bit.ly/16zteI5http://www.guardian.co.uk/global-development/2013/jun/26/guatemala-sugar-land-corn
June 24, 2013 Farmlandgrab.org
EUROPEAN "INVESTMENTS" ASSIST PALM OIL LANDGRABS IN LIBERIA
http://farmlandgrab.org/post/view/22248
June 17, 2013 Guardian Global Development - John Vidal
LA VIA CAMPESINA, WORLD'S LARGEST POLITICAL MOVEMENT, TO CHALLENGE MULTI-NATIONALS ON POVERTY AND INEQUALITY, LAND GRABS AND DEFORESTATION
'"We have no choice but to change the system"
http://www.guardian.co.uk/global-development/2013/jun/17/la-via-campesina-henry-saragih?CMP=EMCGBLEML1625
June 21, 2013 Seed Daily
CHINESE BUY UP CANADA FARMS, SQUEEZING OUT SMALL FARMERS: THE GLOBAL CORPORATE LAND GRAB http://www.seeddaily.com/reports/Chinese_buy_up_Canada_farms_is_Beijing_behind_it_999.html
June 10, 2013 IPS –
KENYA'S FLOWER FARMS NO BED OF ROSES http://www.ipsnews.net/2013/06/kenyas-flower-farms-no-bed-of-roses/
June 18, 2013 CNN Marketplace Africa
LAND RIGHTS, NOT LAND GRABS, CAN HELP AFRICA FEED ITSELF http://www.cnn.com/2013/06/18/opinion/land-grabs-africa-mark-bowman
June 13, 2013 Inter Press Service
U.S. AND MALAYSIA LEAD WORLDWIDE "LAND GRABS" IN EMERGING AND DEVELOPING NATIONS http://www.ipsnews.net/2013/06/u-s-malaysia-lead-worldwide-land-grabs/
April 18, 2013 Institute for Ag
REPORTS OF THE GLOBAL LAND RUSH COME TO WASHINGTON http://www.iatp.org/blog/201304/reports-of-the-global-land-rush-come-to-washington
AFRICA - SOLD: Obama Puts Big 6 Biotech Chemical GMO Giants In Charge of "Ending Hunger" in Africa http://sco.lt/90woVd
LAND MATRIX - Online Public Database on Land Deals.
The Land Matrix is a global and independent land monitoring initiative that promotes transparency and accountability in decisions over land and investment http://landmatrix.org/
June 3, 2013 Forest News
Q&A: WHO OWNS THE RIGHTS TO THE WORLD/S COMMON RESOURCES? http://blog.cifor.org/16672/qa-who-owns-the-rights-to-the-worlds-common-resources/#.Ub6-u-swOic
WATCH SHORT VIDEO: Resource Rights - Grassroots International
Big business wants to control our resources--grabbing land, privatizing water, patenting seeds, and trying to squeeze out anyone who gets in the way of their profits. Fortunately, there is an alternative that places the rights of people and communities ahead of corporate interests--resource rights.
http://www.grassrootsonline.org/issues/resource-rights
June 2, 2013 The Guardian
HOW INDIGENOUS PEOPLE ARE TURNED OFF THEIR LANDS http://www.guardian.co.uk/world/2013/jun/02/indigenous-people-turned-off-land
June 14, 2013 Humanosphere
BBC: A WOMAN'S FIGHT FOR HER LAND IN IVORY COAST REPRESENTS A MASSIVE GLOBAL INJUSTICE http://www.humanosphere.org/jp/bbc-a-womans-fight-for-her-land-in-ivory-coast-represents-a-massive-global-injustice/
June 11, 2013 La Via Campesina
YOUNG PEOPLE OF LA VIA CAMPESINA CLOSE THEIR ASSEMBLY WITH COMMITMENT TO ENSURE THE FUTURE OF SUSTAINABLE PEASANT AGRICULTURE http://viacampesina.org/en/index.php/our-conferences-mainmenu-28/6-jakarta-2013/1423-young-people-of-la-via-campesina-close-their-assembly-with-a-commitment-to-ensure-the-future-of-sustainable-peasant-agriculture
****SLIDESHOW: THE COST OF BIOFUEL LANDGRABS IN GUATEMALA http://www.nytimes.com/slideshow/2013/01/06/world/americas/06guatemala.html
MULTI-NATIONAL CORPORATE GREED: WINNER TAKES ALL
June 6, 2013 Al Jazeera
LOCAL GOLD PROSPECTORS LEFT OUT BY MULTI-NATIONAL GOLD RUSH http://www.aljazeera.com/indepth/features/2013/05/2013515161130258616.html
May 3, 2011 FarmlandGrab
WATCH....Documentary:
"PLANET FOR SALE" BIG AG BUYING UP WORLD'S FERTILE LAND http://farmlandgrab.org/post/view/18542
June 3, 2013 Africa Review
MULTINATIONALS REAPING BIG FROM ABUSIVE FORESTRY PRACTICES IN DRC (CONGO) http://www.africareview.com/Analysis/Multinational-companies-reaping-big-from-DRC-foreste/-/979190/1870906/-/hxc1jf/-/index.html?goback=.gde_125462_member_246771094
*******NEW U.S. SECRETIVE TRADE PACTS MOVE US TOWARD GLOBAL CORPORATE GOVERNANCE: NAFTA ON STEROIDSC http://sco.lt/8mgmP3
DAMS, ECOCIDE AND WATER RIGHTS: IINDIGENOUS COMMUNITIES, ECOSYSTEMS, FORESTS DEVASTATED - BIG MONEY DRIVES EXTINCTION http://sco.lt/79BRmT
January 27, 2013 Economy Watch
LAND GRABBING: 21ST CENTURY COLONIALISM? http://www.economywatch.com/economy-business-and-finance-news/land-grabs-are-the-21st-century-colonialism.17-01.html
June 7, 2013 Climate Justice
INDIGENOUS PERUVIAN PROTEST STATE OIL COMPANY TAKING OVER THEIR LANDS http://climate-connections.org/2013/06/07/indigenous-peruvians-protest-state-oil-company-taking-over-their-land/
MINING, FOREIGN LAND GRABS ENDANGERING ENVIRONMENT, ECOSYSTEM AND LOCAL COMMUNITIES http://sco.lt/5M5eLp
MASSIVE PALM OIL PLANTATION WILL "CUT THE HEART OUT" OF CAMEROON'S RAINFOREST, DESTROY INDIGENOUS AND WILDLIFE HABITAT http://sco.lt/8lmMBF
THE GLOBAL BIOTECH CORPORATE TAKEOVER OF AFRICA: WHO BENEFITS, WHO LOSES? http://sco.lt/7TWVwP
TURNING AFRICA INTO A GMO BONANZA FOR GIANT CORPORATIONS: FOREIGN TAKEOVER OF THE FUTURE OF FARMING IN AFRICA http://sco.lt/7CNCwj
April 14, 2013 Al Jazeera
'QUICK=FIX' DEVELOPMENT BY GOVERNMENTS GIVES AWAY MORE TO PRIVATE CORPORATIONS THAN IT GETS BACK http://www.aljazeera.com/indepth/opinion/2013/04/201341093154879372.html
February 20, 2013 Institute For Agriculture and Trade Policy
LAND GRABS AND FRAGILE FOOD SYSTEMS - THE ROLE OF GLOBALIZATION http://www.iatp.org/documents/land-grabs-and-fragile-food-systems
June 3, 2013 CGIAR WLE
WHEN LAND GETS GRABBED, DO WOMEN GET SIDELINED? http://wle.cgiar.org/blogs/2013/06/03/when-land-gets-grabbed-do-women-get-sidelined/
May 27, 2013 EurActiv
EUROPEAN BANKS ACCUSED OF FUELING LAND GRABS IN UGANDA http://www.euractiv.com/development-policy/european-banks-accused-fuelling-news-520022
14 May 2013 farmlandgrab.org
AFRICA MAY NOT REAP MUCH FROM ITS RICHES http://farmlandgrab.org/post/view/22073
April 22, 2013 CIFOR Forest News
FOREST-DWELLING BORNEO CHILDREN FORESEE GRIM TIMES AHEAD - STUDY http://blog.cifor.org/15192/forest-dwelling-borneo-children-foresee-grim-times-ahead-study/#.UX2jRoLyeid
May 12, 2013 The Guardian UK
DEUTSCHE BANK AND IFC ACCUSED OF BANKROLLING VIETNAM FIRMS' LAND GRABS http://www.guardian.co.uk/world/2013/may/13/deutsche-bank-ifc-bankroll-vietnam-cambodia-laos
May 13, 2013 - farmlandgrab.org
POLICY BRIEF: THE ROLE OF EUROPEAN DEVELOPMENT FINANCE INSTITUTIONS IN LAND GRABS http://farmlandgrab.org/post/view/22067
May 3, 2013 Reuters
VIOLENCE HITS NICARAGUAN RAINFOREST AS LAND INVASIONS MOUNT http://www.trust.org/item/20130503143717-fz36w/?source=tw
May 3, 2013 BBC Science and Environment
NICARAGUA CLOUD FOREST 'UNDER SIEGE' BY COLONIALIST ILLEGAL LOGGERS http://www.bbc.co.uk/news/science-environment-22379788
CORPORATE GOVERNANCE? NEW SECRETIVE GLOBAL TRADE PACTS WILL IMPACT US ALL AS SOVEREIGN RIGHTS NEGOTIATED AWAY http://sco.lt/6P14JF
LAND GRABS AND FRAGILE FOOD SYSTEMS - TRADE POLICY AND CLIMATE CHANGE http://sco.lt/61u001
++++WATCH++++
VIDEO REPORT - The Real News Jan 18,2013
+++BIO-FUELS, SPECULATION, LAND GRABS = FOOD CRISIS http://therealnews.com/t2/index.php?option=com_content&task=view&id=31&Itemid=74&jumival=7818#.USSEGBnZ03Y
+++VIDEO:
"LAND RUSH" - WHY POVERTY? http://sco.lt/7WPptB
+++VIDEO:
LAND GRAB COULD SPELL THE END OF THE MASSAI AND THE SERENGETI http://sco.lt/7fjscz
VIDEO:
*** ETHOPIA -LOWER OMO LOCAL TRIBES UNDER THREAT FROM FOREIGN LAND GRABS http://sco.lt/4ixwsT
+++ VIDEO REPORT
BIOFUEL, SPECULATION, LAND GRABS = FOOD CRISIS http://sco.lt/5Wd0xV
+++VIDEO:
EARTH DAY MESSAGE FROM INDIGENOUS TRIBES IN THE PERUVIAN AMAZON FACING THE EXISTENTIAL THREATS OF LOGGING AND FOSSIL FUEL DEVELOPMENT ON THEIR TRADITIONAL LANDS http://news.mongabay.com/2013/0423-hance-earth-day-video.html
**** VIDEO UNCOVERS TOP LEVEL CORRUPTION IN SARAWAK, MALAYSIA OVER INDIGENOUS FORESTS http://sco.lt/5Y6uUT
++++++++++++++++
GRAIN — LAND GRABBING FOR BIOFUELS MUST STOP http://sco.lt/5kSOFl
ERADICATING ECOCIDE: WHY BUSINESS LEADERS MUST STEP UP TO THE CHALLENGE http://sco.lt/56vkOH
May 22, 2013 WLE
THE ROLE OF ECOSYSTEM SERVICES ON FOOD SECURITY AND NUTRITION IN THE AMAZON http://wle.cgiar.org/blogs/2013/05/22/the-role-of-ecosystem-services-on-food-security-and-nutrition-in-the-amazon/
April 9, 2012 Science Codex
800-YEAR OLD FARMERS COULD TEACH US HOW TO PROTECT THE AMAZON http://www.sciencecodex.com
WATCH:
April 24, 2013 Truthout
+++VIDEO REPORT - The Real News
INDIGENOUS TOWN IN MEXICO CELEBRATES TWO YEARS OF AUTONOMY AND DEFENSE OF THEIR COMMUNITY FOREST http://www.truth-out.org/news/item/15962-indigenous-town-in-mexico-celebrates-two-years-of-autonomy-and-defense-of-their-community-forest
April 25, 2013 - IPS News
CAMEROON: COME GRAB OUR LAND http://www.ipsnews.net/2013/04/african-governments-recognise-land-rights-but-promote-landgrabbing/
April 17, 2013 - The Guardian
LAND 'GRABS' EXPAND TO EUROPE AS BIG BUSINESS BLOCKS ENTRY TO FARMING http://www.guardian.co.uk/global-development/2013/apr/17/land-grabs-europe-big-business-farming
FORESTS AND CLIMATE CHANGE http://www.trust.org/spotlight/forests-and-climate-change/
Oakland Institute - Report
THE GREAT LAND GRAB: RUSH FOR WORLD'S FARMLAND THREATENS FOOD SECURITY FOR THE POOR http://www.oaklandinstitute.org/great-land-grab-rush-world%E2%80%99s-farmland-threatens-food-security-poor
A SHOCKING SCANDAL: THE GREAT, SECRETIVE AFRICA LAND GRAB http://www.scoop.it/t/biodiversity-is-life/p/3340355530/a-shocking-scandal-the-great-secretive-africa-land-grab
25 March 25, 2013 - PolicyMic
LAND GRABS IN AFRICA ARE ALSO FOREIGN WATER GRABS http://www.policymic.com/articles/30774/land-grabs-in-africa-are-also-water-grabs/416504
June 8, 2011 BBC News Africa
HEDGE FUNDS 'GRABBING LAND' IN AFRICA http://www.bbc.co.uk/news/world-africa-13688683
MINING, FOREIGN LAND GRABS ENDANGERING ENVIRONMENT, ECOSYSTEMS AND LOCAL COMMUNITIES http://sco.lt/5M5eLp
March 15, 2013 DW Asia
LAND GRABBING: MYANMAR'S 'WORRYING' TRANSITION http://www.dw.de/myanmars-worrying-transition/a-16678063
April 22, 2013 Survival International
INDONESIAN MILITARY 'DEVELOPMENT' PROGRAM SPREADS FEAR IN WEST PAPUA http://www.survivalinternational.org/news/9173?utm_source=feedburner&utm_medium=feed&utm_campaign=Feed%3A+SurvivalInternational+%28Survival+International%29&utm_content=Google+Reader
April 15, 2013 farmlandgrab.org - Food Crisis and The Global Land Grab
"SONS AND DAUGHTERS OF THE EARTH": INDIGENOUS COMMUNITIES AND LAND GRABS IN GUATEMALA http://farmlandgrab.org/post/view/21932
National Geographic:
AMAZON RAIN FOREST: LAND GRABBING, DEFORESTATION, FOREST CONSERVATION http://environment.nationalgeographic.com/environment/habitats/last-of-amazon/
April 28, 2013 - The Guardian
AUSTRALIA'S BOOM IS ANYTHING BUT FOR ITS ABORIGINAL PEOPLE - Their land yields the world's biggest resources boom http://www.guardian.co.uk/commentisfree/2013/apr/28/australia-boom-aboriginal-story-despair
April 17, 2013 - farmlandgrab.org
HUNDREDS OF THOUSANDS FACE RELOCATION IN ETHIOPIA'S LAND GRAB http://farmlandgrab.org/post/view/21952
VILLAGERS FACE OFF AGAINST PALM OIL FIRM'S BULLDOZERS — EIA International http://ow.ly/kcP3y
April 8, 2013 Rights and Resources - Mongabay:
BRAZIL USING MILITARY TO FORCE AMAZON DAMS CONSTRUCTION ON INDIGENOUS LANDS http://www.rightsandresources.org/blog.php?id=1757
April 18, 2013 BBC New
BRAZILIAN GOVERNMENT FAILING TO PROTECT ONE OF WORLD'S MOST ENDANGERED TRIBES AGAINST LAND GRABBING LOGGERS http://www.bbc.co.uk/news/science-environment-22203476
PHILLIPINES: PALM OIL EXPANSION IS TEARING APART INDIGENOUS PEOPLES LIVES, ECOSYSTEMS http://sco.lt/6JKRxB
PALM OIL ECOCIDE - THE DEFORESTATION HOLOCAUST: Fast-Tracking Our Own Extinction http://www.scoop.it/t/biodiversity-is-life/p/1510545458/fast-tracking-our-own-extinction-the-deforestation-holocaust-
=========RESOURCES=============
***** LA VIA CAMPESINA http://viacampesina.org/
***** FOOD CRISIS AND GLOBAL LAND GRAB - http://farmlandgrab.org
***** SPRING RETURNING http://www.springreturning.com/
***** OAKLAND INSTITUTE
Oakland Institute is a globally respected, independent policy think tank, bringing fresh ideas and bold action to the most pressing social, economic, and environmental issues of our time. Land Rights, High Food Price Crisis, Sustainable Food Systems, Foreign Investment, International Aid, Trade Agreements, Climate Change and Poverty... http://media.oaklandinstitute.org/
++++++WATCH+++++
WATCH AWARD WINNING DOCUMENTARY
+++"REMEMBERING 'GREEN'" - AN ORANGUTANS JOURNEY http://sco.lt/6JdIP3
-------------MORE-----------------
THE CORPORATE RAINFOREST PALMOIL ECOCIDE http://www.scoop.it/t/biodiversity-is-life?q=PALM+OIL+ECOCIDE
LAND GRABBING http://www.scoop.it/t/biodiversity-is-life?q=LAND+GRAB
Via
pdjmoo