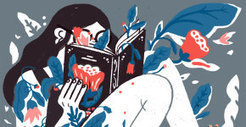 Bibliotherapy is a very broad term for the ancient practice of encouraging reading for therapeutic effect. The first use of the term is usually dated to a jaunty 1916 article in The Atlantic Monthly, "A Literary Clinic." Today, bibliotherapy takes many different forms, from literature courses run for prison inmates to reading circles for elderly people suffering from dementia. Sometimes it can simply mean one-on-one or group sessions for "lapsed" readers who want to find their way back to an enjoyment of books.
Berthoud and Elderkin trace the method of bibliotherapy all the way back to the Ancient Greeks, "who inscribed above the entrance to a library in Thebes that this was a 'healing place for the soul.' " The practice came into its own at the end of the nineteenth century, when Sigmund Freud began using literature during psychoanalysis sessions. After the First World War, traumatized soldiers returning home from the front were often prescribed a course of reading.
Reading has been shown to put our brains into a pleasurable trance-like state, similar to meditation, and it brings the same health benefits of deep relaxation and inner calm. Regular readers sleep better, have lower stress levels, higher self-esteem, and lower rates of depression than non-readers.