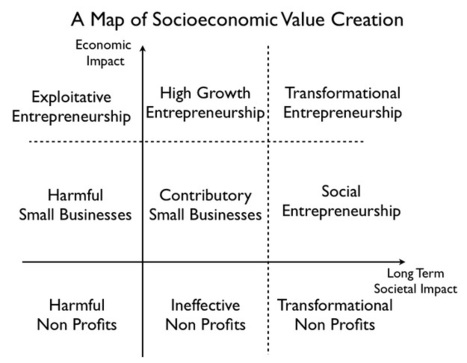 The slow decline of industrial manufacturing in developed nations and recent failures of financial capitalism across the globe have sent us searching for a new model of economic growth.
[...] To successfully make the transition to the new socioeconomic era of the information age, we need to learn to focus the enormous power and efficiency of capitalism on the world's most important problems. To do so will require figuring out how to unite the scalable tools of Technology Entrepreneurship with the moral ethos of Social Entrepreneurship. This is the essence of what we at the Startup Genome are calling Transformational Entrepreneurship.
Transformational Entrepreneurs earn their name by creating innovative solutions to the world's biggest problems that are scalable, sustainable and systematic.
[...] The opportunity to reinvent society is within our power, but the future doesn't invent itself. We encourage everyone to look within themselves and around their environment and seek out opportunities for transformational change. Ask the entrepreneurs you know how the company they are starting is transformational. Ask students and job seekers what transformational problem they want to solve. Ask everyone else what transformational ideas, projects and companies they are excited about. Get people talking, reading, writing, researching and creating in the spirit of transformation — because it is our best hope for reviving socioeconomic progress.