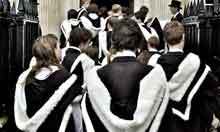 US academics are using the web to offer world-class tuition – free – to anyone who can log on, anywhere in the world.
Your curator writes:
The numbers are staggering: 160,000 people taking a course on artificial intelligence that was previously offered to 400 at the university, with 40,000 completing it.
The article starts with the author riding in a robot-controlled car, speeding toward the edge of the roof and then .... Is that intended as a metaphor for our evolving educational system? And if so, is it pro or con for online and mass education?
A long and literate article. Even the reader comments are worth a go, and I appreciate the Guardian's monitors' curatiing them into something resembling informative public discussion.