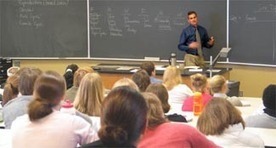 What is interactive lecture?
An interactive lecture is an easy way for instructors to intellectually engage and involve students as active participants in a lecture-based class of any size. Interactive lectures are classes in which the instructor breaks the lecture at least once per class to have students participate in an activity that lets them work directly with the material.

The instructor might begin the interactive segment with an engagement trigger that captures and maintains student attention.
Then the instructor incorporates an activity that allows students to apply what they have learned or give them a context for upcoming lecture material.
As the instructor feels more comfortable using interactive techniques he or she might begin to call upon a blend of various interactive techniques all in one class period.