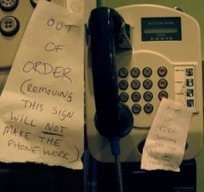 Nearly four months after Hurricane Sandy struck Manhattan, many customers are still waiting to get their phone and Internet service restored.
Verizon's black hole extends across parts of Lower Manhattan, such as along Avenue C, roughly from Third Street to Tenth Street. There, business transactions are often "cash-only," because stores and bars have no ability to process credit card transactions. But getting cash can also be difficult as ATMs, which also rely on Verizon's network, display the same "Offline" message they have shown for more than three months.
Some of Verizon's customers are fed up, especially after the company started asking customers to pay for phone and broadband service they don't have.
Several customers report the company expects its monthly bills to be paid, with complicated service credits forthcoming after payments are applied. Customers who don't pay have been assessed late fees or face collection activity for service that has not worked since Halloween.
WNYC Radio reports it has been nearly four months since Hurricane Sandy hit the northeastern U.S. and large sections of Lower Manhattan still don't have phone or broadband service from Verizon.
Click headline to read more and listen to the WNYC radio segment--
Via
Chuck Sherwood, Senior Associate, TeleDimensions, Inc