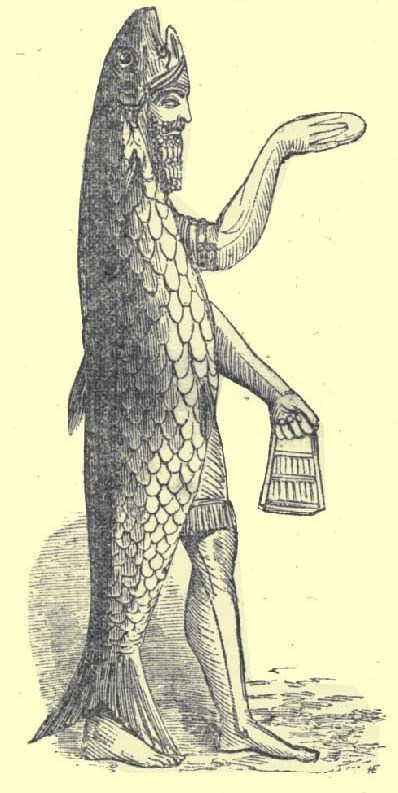 Dagon is the Mesopotamian (Assyro-Babylonian) god of agriculture in Biblical times.
The god of farming was the father of no less than the king of gods, Baal Hadad, and was, insofar as the deity takes care of the crops, a fertility god.
Dagon is also associated with the Philistines, fertility, vegetation, and military strength...
The image of Dagon is a debated issue. The notion that Dagon was a god whose upper body was that of a man and the lower body that of a fish has been prevalent for decades.
This idea may stem from a linguistic error in translating a derivative of the Semitic 'dag.' The word 'dagan' actually means 'corn' or 'cereal'.
The name 'Dagon' itself dates back to at least 2500 BCE, and is most probably a derivative of a word from a dialect of the Semitic tongue.
This notion that Dagon was represented in iconography and statuary as part fish in Philistia proper is not supported entirely by coins found in Phoenician and Philistine cities.
In fact, there is no evidence in the archaeological record to support the theory that Dagon was thusly represented.
Whatever the image, a varying perception of Dagon developed around the Mediterranean...
Dagon, after he discovered corn and the plough, was called Arotrios, Philos of Byblos...
More:
See Ba'al:
Post Image: http://bit.ly/YM6jCM
Via
Mhd.Shadi Khudr