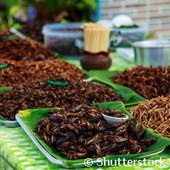 CORDIS Nouvelles est un service en ligne de nouvelles quotidiennes fourni par CORDIS, le service d'information officiel de l'Union europenne sur la recherche et l'innovation.
[...]
Le projet de recherche PROTEINSECT («Enabling the exploitation of insects as a sustainable source of protein for animal feed and human nutrition») a été mis en place par l'Agence de recherche sur les aliments et l'environnement (FERA) au Royaume-Uni, avec des partenaires en Chine et en Afrique, ainsi qu'en Europe continentale pour faire avancer les changements dans la législation actuelle de l'UE.

Le projet se penche sur l'efficacité et l'innocuité d'une utilisation accrue de cette source de protéine animale. Il serait souhaitable que les protéines d'insectes soient autorisées dans les aliments pour les porcs et les volailles, ces animaux consommant déjà des insectes dans le cadre de leur alimentation naturelle.
[...]
FERA (Food and Environment Research Agency)
http://www.fera.defra.gov.uk
Via
Bernadette Cassel