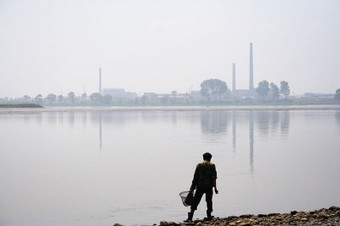 A Chinese village on the North Korean border offers an alternative view on the meaning of Kim Jong-il's death.
With the death of Kim Jong-Il, North Korea and China watchers have been engaged in some pretty intense Kremlinology, trying to make sense of elite politics in Pyongyang. But what do ordinary people living along the North Korean border think of the changes taking place inside their communist neighbor?
I took a trip to Dandong, a small Chinese port town on the North Korean border, to try a get a more bottom-up perspective on the hermit kingdom.
What struck me most was the sympathetic view many in Dandong took towards their neighbor. In Beijing, the standard reaction to questions about North Korea is pretty similar to the West: "They're crazy" (tamen feng le), it's hard to imagine life there."
These kinds of responses are far less common in Dandong, whose residents can clearly see North Korea across the Yalu River and many of whom have been across the river to do business. Far more people told me things like "they're really poor" and "they're less developed than us."