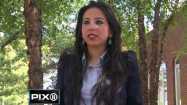 NEW YORK (PIX11)—
Say hello to Brooklyn's "Diva of the District." She's a 22 year old, Orthodox Jewish law student named Mindy Meyer and she's set out to be the next New York State Senator.
"Who's going to oppose someone who's changing the community. I mean, if you have a problem, bye!," said Meyer from Flatbush, where she grew up.
Her campaign website has caught the attention of the nation, in just a short week since she decided to run for election. Some call it ridiculous, she calls it engaging. Instead of red, white and blue, her campaign site dons lepord print graphics and a hot pink background that surround various headshots of the senate hopeful.
"My inspiration comes from Elle Woods from Legally Blonde. If she was able to bring pink to Harvard, I can bring it to the Senate," said Meyer.
Not all her idols are fictional though. She says a brief meeting with Former Mayor, Rudy Guiliani, when she was 11 years old gave her the confidence to follow her dreams.
"I tried to invite him to my Bat Mitzvah celebration. Of course he didn't come," said Meyer.
Meyer is running along conservative lines in Brooklyn's 21st District. She has party endorsement and is currently building her platform. Under the 'issues' tab she lists 'Stop and Frisk' and 'Women's Rights' as being her top priority.
"I can learn all the issues. But if you give me the seat I can take the election to the end. I will make you proud," said Meyer.
Now that she's got the attention from the politicians, she wants her opponent, incumbent Kevin Parker, why she's confident she will win come November.
"He's been there for 10 years already. What does he pride himself on? I mean seriously."
Parker challenges her statement saying his record in a very left leaning district, 92 percent voters voted for Obama in 2008, will bring him back for another term.
"I've been a leader on issues that are important like Stop and Frisk, Women's Health," said Democrat Kevin Parker, who's been in the Senate seat for 10 years.
And while he admits his website lacks pizazz, Parker isn't concerned.
"A deep red politician can't represent, a deep blue district with a pink website," said Parker.