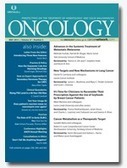 "Nonsentinel lymph node (NSLN) status in patients who underwent complete lymph node dissection after positive sentinel lymph node biopsy (SLNB) had independent prognostic value in patients with two to three positive lymph nodes, according to the results of a study published recently in the Journal of Clinical Oncology.
"Furthermore, researchers led by Sandro Pasquali, MD, of the University of Padova, Italy, found that patients who had metastatic disease in their NSLN had their risk for melanoma death increased by more than one-third."
Editor's note: Sentinel lymph nodes (those closest to the tumor) can be examined to predict whether a patient will survive melanoma. This study shows that nonsentinel lymph nodes could potentially be used for survival predictions. We covered a similar story last July.