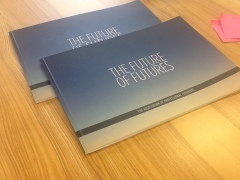 "The Future Of Futures" is a fine new book that look at the past, present, and future state of futures practise.
Contributors include Wendy Schultz, on the brief history of futures, Andrew Curry on scenarios methods, Noah Raford on crowdsourced & design futures, Richard Slaughter on integral futures, and Riel Miller on futures as a discipline.
Other contributions are on the future of the city, Africa's futures, and the rise, and limits, of crowd-sourcing as a futures practice.