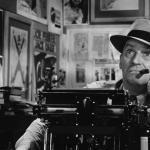 Wanneer is een bricht op internet (twitter/facebook/blog) een publiek bericht of een prive bericht?
Een dunne scheidslijn , die vooral voor minderjarigen, goed in de gaten moet worden gehouden.
En ook hierbij gaat het weer om bewustzijn - mag het, kan het, moet het?
"Given the Internet's prevalence in our society, there is a real need to define our code of digital ethics including an update to privacy."