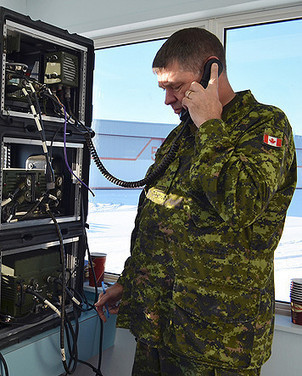 When Yellowknife was founded more than 75 years ago, its only reliable means of communications was run out of a tent with two soldiers and a radio.
Early in September of 1937, the Army was ordered to the new town to establish "RC Sigs Station Yellowknife." It was the government's answer to communications problems in the North. The station would become the largest and busiest in the Northwest Territories, according to Maj. Terry Buehl, the man currently in charge of military signals in Yellowknife with Joint Task Force (North).
The Yellowknife station was part of a vast network of stations manned by soldiers from the Royal Canadian Corps of Signals. The first was built in 1922 in Dawson City, Yukon, replacing an unreliable telegraph line and a limited post service.
On Friday, the Royal Canadian Corps of Signals celebrated the 110th anniversary of military communications in Canada. In Yellowknife, Buehl and his signallers took part by participating in a world-wide radio exercise.
See also
Northwest Territories and Yukon Radio System History Project http://ow.ly/qqKVi