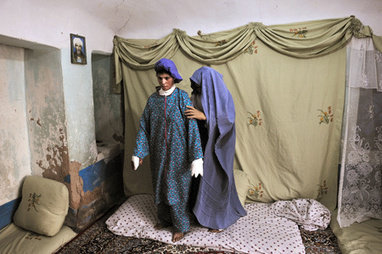 © Lynsey Addario/VII for The New York Times
Farzana is helped to stand up by her mother at home, as they prepare to go to a private clinic in Herat, Afghanistan, August 5, 2010. Farzana tried to commit suicide by self-immolation after being beaten by her in-laws. Hundreds, if not thousands, of Afghan women commit suicide by self-immolation each year to escape abusive marriages and in-laws; divorce is considered too shameful an option.
[excerpt]
When a photo can be re-posted and seen anywhere in the world, photojournalists now take extra precautions to protect photo subjects who are vulnerable to reprisal or revenge.
[...]
When covering sensitive stories, photojournalists have to assure their subjects that by being photographed, they won't put themselves in jeopardy. But at a time when the reach of the internet and social media extends even into remote places, photojournalists have little control over where their images will be posted or who might see them—the subject's enemies, the community or family members a subject hoped to escape, authorities working for an oppressive regime. Photojournalists say they now have to take extra precautions in order to protect the identities and safety of subjects who may be at risk for retaliation or reprisal. They are also doing more to make sure that the people they photograph understand how widely their image may be seen.
[...]
Fully Informed Consent
Since 2000, Lynsey Addario has done several stories about the role of women in Afghanistan, where, she says, "a woman might be killed for having her photograph printed in a magazine if her family doesn't agree." In approaching any subject, she says, "I am always very clear about who I am—a photojournalist working for X publication… and I explain that while the images will appear in a newspaper in America, there is a possibility that they will also appear online." In Afghanistan, she says, obtaining her subjects' permission is difficult, but crucial. For "Veiled Rebellion," her series on Afghan women struggling with tribalism, poverty, and war, first published in National Geographic and now a traveling exhibition, she wanted to photograph a woman getting married.
"I went to about six weddings before I found one where the woman and man's side of the family were both OK with the bride and groom being photographed," Addario says. "It takes exponentially more work to be honest and have integrity while shooting women in Afghanistan, but it is important that if I can help it in any way, my work doesn't jeopardize the subject's safety."
On assignment for The New York Times, she produced a video and still photos on women who had tried to kill themselves through self-immolation, a desperate act done in hopes of escaping abusive husbands or in-laws. "The images show Afghan women's faces, often with their burns exposed, and they are speaking on camera about their attempts to commit suicide, which in Afghanistan is a real dishonor to one's family.
"If there is a woman, for example, who doesn't mind being photographed, I will also ask whichever family member is by her side," she continues, "because in a place like Afghanistan, the family has to also agree."
At times, a woman and her family agreed to be photographed because they knew that, given the extent of her burns, she had little time to live. Addario explains, "Though the proliferation of media outlets is a new concept in Afghanistan, there are many who understand that their stories might help educate other Afghan women about the futility of trying to burn oneself by self-immolation. And they also understand that sometimes these stories help generate donations for burn centers in Herat and Kabul available to treat these women."
[...]
10