Scoop.it!
McDonald's Corporate Research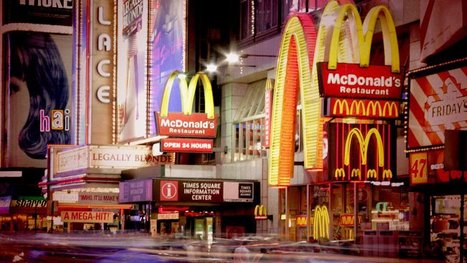 Badr B.'s insight:
-U.S President/CEO: Don Thompson
-U.S VPs: Peter J. Bensen, Jose Armario, Richard Floersch, Jim Johannesen, Ken Koziol, Kevin Newell, and Gloria Santona.
-U.S Directors: Andrew J. McKenna, Susan E. Arnold, Robert A. Eckert, Enrique Hernandez, Jr., Jeanne P. Jackson, Richard H. Lenny, Walter E. Massey, Cary D. McMillan, Sheila A. Penrose, John W. Rogers, Jr., Roger W. Stone, Donald Thompson, and Miles D. White.
-Company was established in: 1940
-# of Employees: 1,800,000 (2013)
-# of subsidiaries: 103
-Private or Public?: Public
-# of shares: 1,100,000,000
-Type of Business/Industry: Fast-Food Restaurant
-Revenue: U.S $27.56 billion (increased in 2012)
-Net Income: U.S $5.46 billion (decreased in 2012)

-Brief Description of Business: McDonald's Corporation franchises and operates McDonald's restaurants in the global restaurant industry. It`s world`s number one fast food company that serves a menu at various price points providing value in 119 countries globally and serving around 47 million customers. McDonald's primarily sells hamburgers, cheeseburgers, chicken, French fries, breakfast items, soft drinks, milkshakes and desserts. In response to changing consumer tastes, the company has expanded its menu to include salads, fish, wraps, smoothies and fruit.
-Sources (List the databases/directories/periodicals you used):
http://school.eb.com/eb/article-9399717?query=McDonald%27s%20Corporation&ct=
"McDonald's." Grolier Multimedia Encyclopedia. Grolier Online http://gme.grolier.com/article?assetid=0179857-0 (accessed April 10, 2013. (Chicago format).