Scoop.it!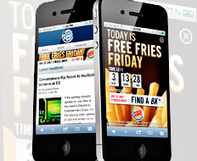 Mobile Makeover - Mobile marketing use increases as quick serves try to attract on-the-go customers.
A. Savard's insight:
In an era dominated by digital consumerism and heightened demand for convenience-based goods and services, many quick-service restaurant chains, such as Subway, Domino's Pizza, and Burger King, are ramping up their mobile marketing campaigns to leverage digital technologies in effort to better connect and interact with the right consumers, at the right time, and in the right place.
Reliant on speedy delivery, quick-service restaurants have launched a series of new mobile marketing tools to enhance the consumer experience and streamline the conventional restaurant-consumer transaction by allowing consumers to create, pay, and submit their orders virtually using their mobile devices. Subway has developed an interactive mobile marketing tool that allows consumers to create and order their own sandwich via a virtual production line, and in turn designate a pick-up location and time to avoid in-store lines. Similarly, Domino's Pizza connects with consumers through a new mobile tool that provides direct user updates throughout the entire pizza preparation process, including who is making the pizza. Further, geo-location technology is being incorporated into many mobile marketing campaigns as a means to improve the delivery of advertisements toward targeted consumers who are within a store's vicinity. For instance, Burger King's "geo-aware" mobile marketing campaign, "Free Fries Friday", successfully leveraged user location data to tweak advertising through targeted banner ads; results revealed a 3.21% click-through user rate, as opposed to an average 0.33% by other direct marketing mobile campaigns.
Although mobile marketing tools and advertisements are gaining traction among quick-service restaurant chains, marketers must remain cognizant that consumers continue to be bombarded by countless marketing ploys each day, hence the delivery and appeal of such mobile marketing is critical to success. Thus, marketers must develop mobile marketing campaigns that seek to generate customer value; otherwise, efforts will be construed by consumers as merely mobile spam.