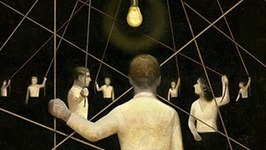 Chance appears to name a single, unitary thing. But its genealogy, its family history, turns out to be a tangled one. One way to understand its branching origins is to turn to literature: We may look, in turn, to two very different novels.
Anton Chigurh, the antagonist of Cormac McCarthy's novel No Country for Old Men, forces his victims to guess the outcome of a coin toss, taking their life if they guess in error. McCarthy's villain forces blind chance into his victims' lives in the most brutal way. That chance is entirely contained, not in Chigurh, but in the toss—in nature itself. This is one source of uncertainty.
To understand the second source, we travel as far as possible from McCarthy's American Southwest. The first volume of Henry James's The Wings of the Dove ends with Milly Theale, a wealthy American heiress, visiting the National Gallery in London. To her surprise she sees an acquaintance, Merton Densher, in the company of her best friend, Kate Croy. The plot of the book from this point forward hinges on a single question: will Milly learn what the reader already knows—that Merton and
Kate are in love and secretly engaged to be married.
In the sequence, told from Milly's point of view, we see how Kate—caught sharing an intimate afternoon—acts in such a way as to generate an alternate hypothesis for her friend: that Merton may well be keen on her, but that she, Kate, is not keen on him.
Here are uncertainties not otherwise found in nature: probabilities about probabilities, beliefs about beliefs held by others.
Via
Ashish Umre