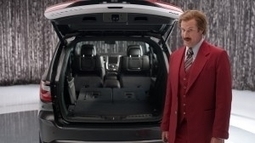 "Olivier Francois is a Parisian working for an Italian company, but he understands American popular culture better than most U.S.-born marketers" -Forbes
As a CMO of Chrysler and Fiat, Olivier recently executed a successful marketing plan to capture attention from its consumers. In order to do so, Olivier turned towards a more traditional form of marketing. According to the article, Oliver was able to successfully launch the campaign through celebrity endorsements and correct product placement. Through associating the product with Anchorman 2 and Grand Theft Auto IV, Chrysler and Fiat were able to capture the audience's attention and create a viral campaign.
This article was significant in that, Oliver Francois, who is a "foreigner", actually understood the American culture better than other marketers. Through thorough analysis of the ethnography of the American population, Oliver was able to attract the majority of the population, increase the exposure of the brand within the culture, and finally increase customers. Most problems associated with celebrity endorsement and product placement is the cost; however, in this article, we can conclude that when implemented correctly, the benefits of product placement and celebrity endorsement outweigh the cost of the strategy.