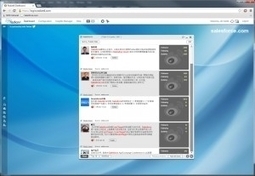 Salesforce has opened doors for many companies by developing a working relationship with social media sites prevalent in China and Russia. This relationship will allow Salesforce to provide to its users tools to actively listen to the social activities on sites like Weibo (China) or VKontakte (Russia). In my opinion, this is a great advancement made by Salesforce because it will not only provide businesses in those regions more information to improve their current product/service offerings to their existing customers, but it will also allow companies not in the region to gather information to identify opportunities in those countries as well.
With consumers' increasing usage of social media, it has become crucial for companies to participate in social listening in order to understand their customers better. By understanding what they enjoyed about the product, services, or the general atmosphere, companies can better strategize to improve sales, customer retention, or customer satisfaction.
In the article, Salesforce Marketing Cloud chief Lazerow has indicated that this new development has allowed Salesforce to listen to consumers around the world using its tools, which will enable big brands to feel comfortable doing business in these regions, despite their different politics and privacy policies.