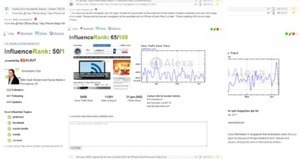 Marketing Research Insight by Ilse van Outersterp

This article discusses sentiment analysis: a social listening tool to evaluate customer statements found across social platforms to determine opinions with respect to a brand. However, one should carefully monitor the two possible problems with sentiment analysis, namely the training and the hearing of the system used. No tool is perfectly able to accurately score sentiment and some are easier to train than others.
However, in my opinion, the advantages weigh out the drawbacks. As the article highlights, by tracking the prevailing opinion of your brand, you could measure the impact of marketing efforts and actions on the brand reputation and attitudes towards new products . According to me, this is significant in today's social age where customers determine the conversation about a brand. By actively using social listening, a firm will be successfully able to identify potentially harmful conversation and ameliorate the situation by reacting properly before it will have a drastic impact. Additionally, it is extremely valuable in developing a brand reputation strategy and it represent opportunities for high consumer engagement.