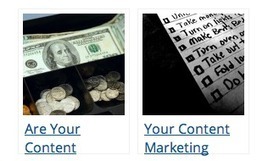 Over the last several years, search engine optimization (SEO) has matured quite a bit. Now, it's no longer the practice of stuffing web pages with as many carefully-placed keywords as possible and hoping that Google notices.
Quality is Key
Creating content for SEO today means going beyond traditional SEO practices like on-page keyword optimization or link building. Although both of these still play an important role in a business's SEO success, they can no longer be relied on as the best ways to drive search traffic to a website.
As time goes on and technology gets more sophisticated, Google continues to push for a quality over quantity approach. Sites that offer visitors valuable content are going to be looked upon more favorably by the search engine, and will – therefore – appear higher in the search rankings. In Google's digital eyes, this means providing high-quality, relevant content on a regular basis.