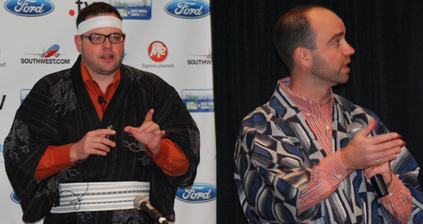 To study the relative merits of content creation and dissemination, Jay Baer and Joe Pulizzi declared there to be 6 stages on the content marketing continuum (6 stages of opening the kimono in the parlance of the presentation).
1. Closed Kimono
The first stage in kimono-opening is to not open it at all. In this scenario, the business does not focus upon online thought leadership, concentrating efforts on other approaches.
2. What Happens in Vegas
The second stage in kimono-opening is creating thought leadership by participating in communities and content opportunities that you do not control.
3. Quid Pro Quo
The third stage in kimono-opening is producing your own content, but doing so for a fee.
4. Give Me Your Number
The fourth stage in kimono-opening is a familiar one to many B2B marketers: producing content and putting it behind a lead form.
5. Peek-A-Boo
The fifth stage in kimono-opening is when companies produce significant, freely distributed content but do not reveal their operational "secret sauce."
6. The Full Monty
The sixth stage in kimono-opening is unfettered, unrestricted content creation and delivery.
The best way to identify right answer, it is to test, test, test. Establish a dashboard using the 4 Types of Content Metrics to measure the effectiveness of your efforts, and then create related pieces of content, treating each with different types of kimono-opening.
[read full article http://j.mp/tZSsur]