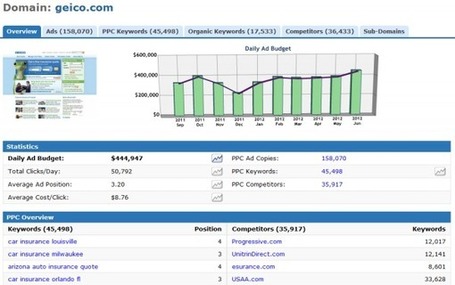 Excerpted from article:
"One of the hardest things to do in keyword research is to uncover related keywords. With that in mind, the tools I'm reviewing today all help identify related keywords that you may want to search in more detail.
All of the tools I reviewed for this article are free to the public. Some have paid options, but I've only covered the free features.
1) KeywordEye:
The nice thing is that it also has options for several other countries and returns results in language.
The free version of this tool does limit you to 100 keywords, so while it's useful for high level ideas, it's not a keyword research substitute.
Another nice feature is the ability to order the cloud visualization it returns – by Adwords competition or by search volume.
2) KeywordSpy:
Keyword Spy allows you to quite literally "spy" on keywords. It's a great name.
There are several features of the free version of this tool, but the one I like the best is the Domain spy tool.
Just type any domain into the search box, make sure the radio button for "domains" is selected, and you can get reasonably accurate data on how much that site is spending in paid search, who their competitors are, what keywords they spend the most money on, and more.
3) SEMRush:
This tool is also a paid tool with a free option, but unlike other free options, I think this tool provides just enough data in its free application to be useful. One element that I like in SEMRush that I haven't seen elsewhere is the metric for the number of results in Google. That's this number for any given search...."
Each tool is analyzed with more information. Read full article here: http://j.mp/N8JOTb