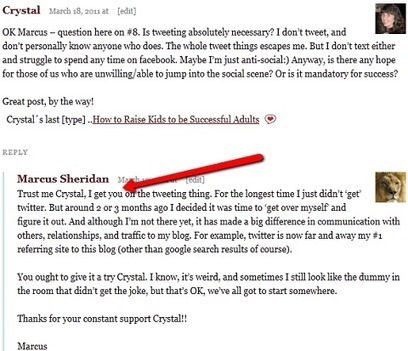 Excerpted from article:
"Every one of us is looking for ways to form stronger relationships with our audience, especially with current and potential customers.
This article isn't about "How to get more blog comments," but rather how to cultivate better relationships through comments. Notwithstanding, the two do overlap, as you'll see in the following list.
Finally, you're going to find that some of the components of this list are nothing more than common sense. But as so many know, common sense, especially in this new culture of social media, can at times be rather uncommon, and therefore needs to be mentioned.
Here's only full list:
#1: Write in a Personal Voice;
#2: Invite Reader Response by Asking Questions;
#3: Don't be a Know-it-All;
#4: Admit You May be Wrong;
#5: Utilize an Author Bio and Photo;
#6: Say a Simple "Hello";
#7: Use Readers' Names;
#8: Show Empathy;
#9: Ask Further Questions;
#10: Invite Other Readers to Share Their Solutions;
#11: Respond with Personal Emails;
#12: Be Specific with Your Praise;
#13: Recognize Returning Commenters;
#14: Use a Plugin/Platform that Ensures all Replies are Read;
#15: Thank Readers for Their Support;
#16: Sign Your Name;
#17: Refer to Comments in Future Posts;
#18: Don't be a Jerk if Someone Disagrees with You;
#19: Respond!
Each element is analyzed with more information. Read full article here:
http://www.socialmediaexaminer.com/blog-comments/