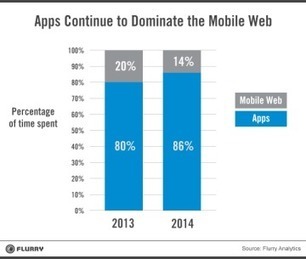 3 Amazing Sign of the Times Facts
This post shows app growth cutting use of the "mobile web" or access of the web from mobile devices.

Apps cutting down use of the mobile web.

Smartphones & Organic Searches
I created a chart here
https://plus.google.com/102639884404823294558/posts/i8GsS6piTdz
that shows the impact of smartphone adoption on organic Google searches - organic searches are slowing.

Mobile 1/3 of All Organic Searches
Finally this Scoop http://sco.lt/8yX2rB shows mobile searches now 1/3 of all organic searches.

SO, mobile searches are increasing even as smartphones and apps are reducing organic searches. Why would mobile, smartphones, apps and social media reduce organic search volume?

* Apps = search less.
* Mobile is more social and so search less.
* Mobile is a "game console" where we "play" apps and connect so search less.
* Appification of the world continues.
* Apps are games so gamification of the world continues.

Doubt we are in the middle of a REVOLUTION?
Via
Jesús Hernández