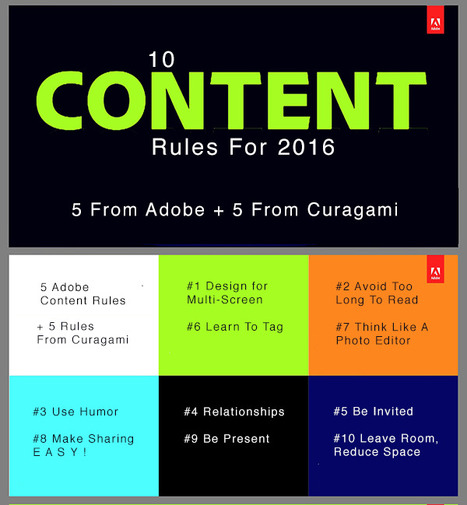 Adobe Content Rules For 2016
Here are Adobe's 5 content "rules" for 2016 and our reactions:
Design for the Multiscreen Reality
Agree. Finding ways to have your content move like a pinball between devices will be key. The title image used here actually came from Adobe's mobile pitch of this piece. We went to Google, grabbed the URL, shared it here and then moved the mobile image we preferred over demonstrating today's "multiscreen reality".
Don't Fall Victim to #TLDR (Too Long, Didn't Read)
Agree and disagree. Tell great stories is what we would say. Tell great stories supported by great graphics and map your multiscreen reality. What constitutes #TLDR? Is Moby Dick TLDR? Not so much because Melville knows how to tell a story. Oh, and there is, at least, one reader sure to read your entire post - Google's spider :).

Humor Makes Brands More Relatable
Agree with a caveat - what you think is funny may be infantile or worse for others. Stay in tune with your audience and use humor SPARINGLY since to overuse what you think is tyranny.
In Our Relationships We Trust
Agree with a caveat here too. Adobe talks about brands we want to talk about people. We trust our friends and their friends. The ONLY way we know to spread trust today is to win the advocacy of your core audience. "Win the advocacy of" is HARD and you must ASK FOR HELP. Be humble, ask for help, listen and your circle of trust will grow. Be inauthentic, lie or not match walk to talk and your content will come back to bite you in bad ways.

Don't Show Up Uninvited
Disagree. The next generation live on phones and share, share and share some more. The use of our devices as connection machines is inevitable and won't be deterred by latent fears pumped by media or poorly understood posts. Is asking for your customers' permission and being honest about what you and your website do with information essential - yes (and DUH). Don't think this know me help me genie goes back in the bottle anytime soon, however.
+ 5 More From Curagami

Learn To Tag
Tags, keywords, short descriptions and snippets will be key in 2016 because of Adobe's Rule #1 - the need to have content ping and play on different devices.

Think Like A Photo Editor
If you find an arresting image USE IT. Image support for content cuts down on the Too Long To Read problem while providing hooks for sharing.

Make Sharing EASY
If you have Ambassadors, those special people helping you create friends of friends marketing, empower them with suggestions, curation of great work by fellow Ambassadors and great visuals. Making sharing your content easy in 2016 is MORE than adding social widgets. Don't forget to ASK QUESTIONS too. Asking questions even if you NEVER hear an answer says you are at least interested in listening (lol).
Be Present
Nothing will kill your online marketing faster in 2016 than canned responses, nofollow@ links, not thanking supporters and not being fully present and available. Want to win hearts, minds and loyalty with content in 2016? Then LISTEN, CURATE and REWARD (LCR).

Leave Room & Reduce Space
Seems like a contradiction, but we mean your content should always anticpate engagement, ask for involvement and look to reward those who help. Reduce the space between YOU (creators of a site) and THEM (those using and contriuting to your conent) by creating sustainble commuity. LOVE your readers and customes and they will love you back.
Please Note
I modified the Adobe graphics without permission demonstrating our 6th rule of content for 2016 - collaborate and build on. If Adobe's lawyers are reading this we hope they are in a forgiving mood and understand our desire was to curate and build onto a great post not steal, or at least not steal outright :). Marty


Desig
n fo
r the Multiscreen Reality