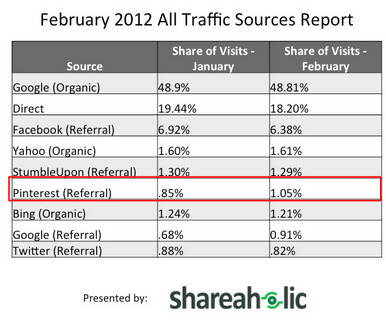 - Pinterest encourages viral activity as shown by the number of repins. Specifically over 80% of pins are repins as reported by RJ Metrics.

- Pinterest is growing in its ability to drive traffic to other sites. In February, Pinterest referral traffic surpassed Twitter while Facebook's referral traffic declined according to Shareaholic data.
- Pinterest's partitipants' buying power is only second to those of LinkedIn.
- Pinterest shoppers spend more, buy more items, and make more purchases than other social media buyers including Facebook and LinkedIn according to comScore.

- Pinterest received $100 million investment from Japanese firm, Rakuten