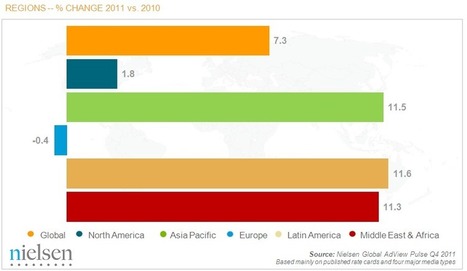 After a boost in advertising spending in Q3 2011, many of the world's biggest advertisers exercised more caution in Q4, but 2011 still showed an overall 7.3 percent increase in spending vs. 2010.


According to Nielsen's quarterly Global AdView Pulse report, global advertising in 2011 totaled USD 498 billion. All traditional media types showed positive trends globally in 2011, with Television and Radio seeing the highest percentage increases of 10.1 percent and 9.7 percent respectively. Television ad spend, which holds a 65 percent share of ad spending, grew in all regions.

Spending for Internet, Outdoor, and Cinema also all showed increases in 2011 when compared with 2010. Internet ad spending, which grew by 24 percent in 2011 vs. 2010, saw increases in almost all markets measured.