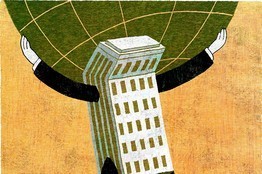 The idea that companies have a responsibility to act in the public interest and will profit from doing so is fundamentally flawed. It's not surprising that CSR has won over so many people—it's a very appealing proposition. You can have your cake and eat it too!´But it's an illusion, and a potentially dangerous one.

Very simply, in cases where private profits and public interests are aligned, the idea of corporate social responsibility is irrelevant: Companies that simply do everything they can to boost profits will end up increasing social welfare. In circumstances in which profits and social welfare are in direct opposition, an appeal to corporate social responsibility will almost always be ineffective, because executives are unlikely to act voluntarily in the public interest and against shareholder interests.

Irrelevant or ineffective, take your pick. But it's worse than that. The danger is that a focus on social responsibility will delay or discourage more-effective measures to enhance social welfare in those cases where profits and the public good are at odds. As society looks to companies to address these problems, the real solutions may be ignored. The ultimate solution is government regulation. Its greatest appeal is that it is binding. Government has the power to enforce regulation. No need to rely on anyone's best intentions.

But government regulation isn't perfect, and it can even end up reducing public welfare because of its cost or inefficiency. The government also may lack the resources and competence to design and administer appropriate regulations, particularly for complex industries requiring much specialized knowledge. And industry groups might find ways to influence regulation to the point where it is ineffective or even ends up benefiting the industry at the expense of the general population.

Outright corruption can make the situation even worse. What's more, all the problems of government failure are exacerbated in developing countries with weak and often corrupt governments.

Still, with all their faults, governments are a far more effective protector of the public good than any campaign for corporate social responsibility.