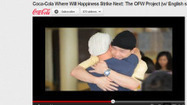 The focus is not on product but on driving an emotional connection, and social media leads the way...
The days when companies relied on 30-second TV spots and full-page newspaper ads as their main tools for staying top-of-mind are long gone. The proliferation of new media and different ways to access information have changed the marketing mix forever.
Listing communications channels for a marketing initiative used to be like counting the number of houses on a street; now, you're looking at a whole neighbourhood packed full of high-rises.
Via
Gregg Morris